Pushing the boundaries – ACTA International Conference
In 2018 SA TESOL hosted the ACTA Conference. The 2020 biennial conference was due to be held in Brisbane, hosted by QATESOL. Due to COVID-19, the conference has been re-scheduled to 2021. Click on the Conference page here to find out more.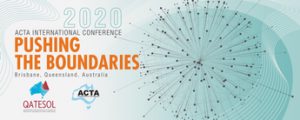 SA TESOL
SA TESOL supports and represents EAL educators in all educational sectors – primary, secondary, tertiary, adult and community to achieve quality education for learners of English as an additional language or dialect (EALD). Download the constitution 2017 approved at the SA TESOL AGM in 2017.
SA TESOL
has members from primary, secondary, tertiary and community sectors
provides representation for EALD/ESL educators at state and national forums
provides a range of learning and development activities
publishes and distributes state and national journals
SA TESOL provides a variety of learning and development activities. These focus on
language teaching and learning
cultural exchange
EALD/ESL teacher standards
advocacy
SA TESOL is an active member of the Australian Council for TESOL Associations (ACTA) which provides a voice for TESOL educators and their students at the national level.